The Lansing Journal has partnered with Stacker.com to provide in-depth features that may be of interest to our readers.
By Mike Sunnucks
Throughout 2022, Adams Publishing Group's journalists from across the country collected local grocery price data, spoke with American consumers about how they're navigating the high tide of inflation, and heard from economists on when the price pressures might subside.
Each month, reporters tracked prices as they rose and sometimes fell, using the same grocery list and shopping at the same store in 10 communities across the United States. The result is a database of grocery prices, including average item prices and total grocery bills over 12 months.
The grocery list includes items ranging from eggs, butter, and cream cheese to soda, meat, and toilet paper.
Here are some of the results: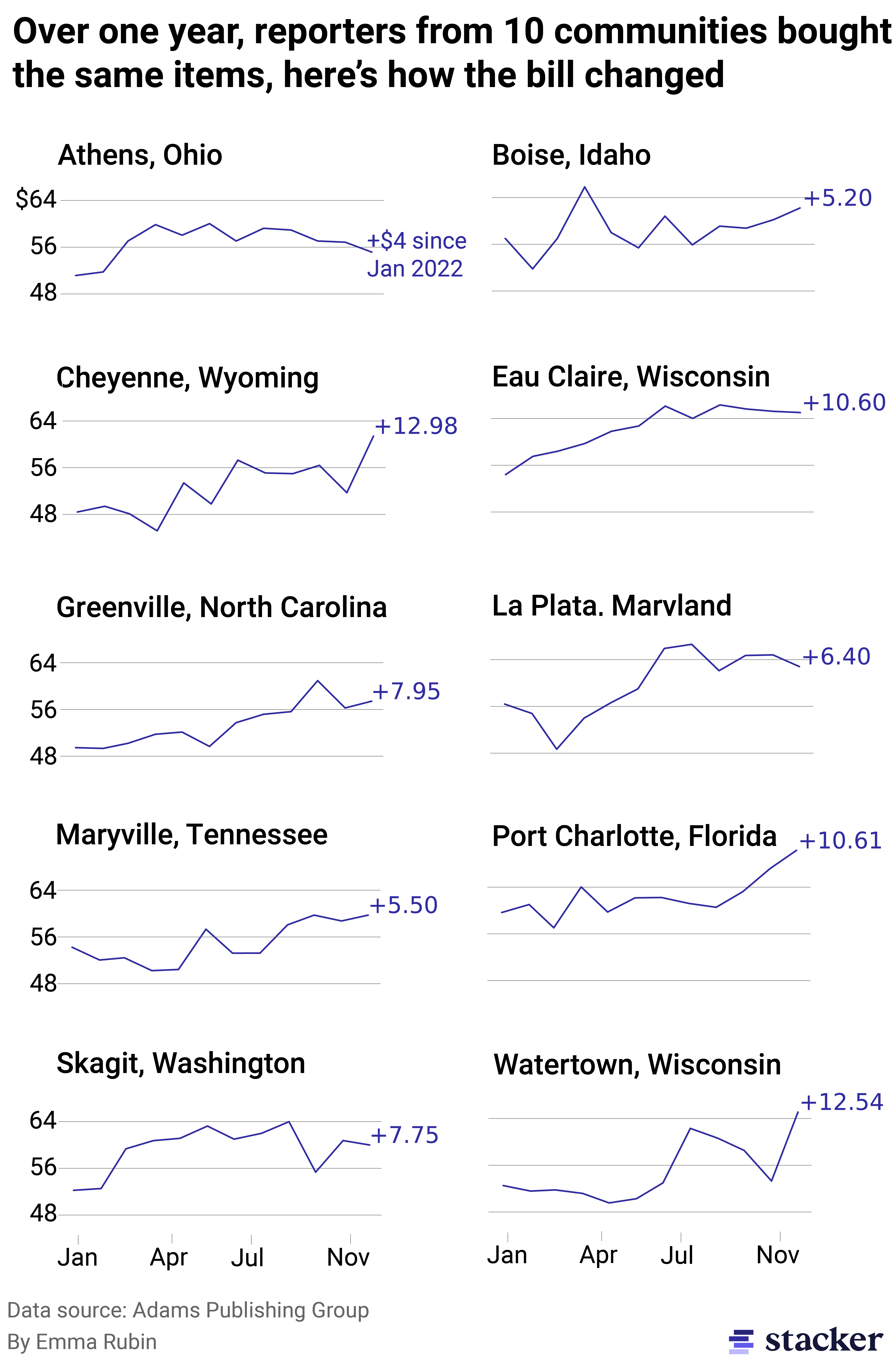 Digging deeper into the "heat of inflation"
While the inflation rate moderated year-over-year in the CPI, digging into the number can show the rise in prices compared to early stages of and before the coronavirus pandemic.
The CPI — the primary U.S. inflation gauge — is up 16.5% from May 2020, according to the St. Louis Federal Reserve Bank. Inflation is up 15.7% since Nov. 2019, according to the regional bank.
Globally, there are continued inflationary hotspots and areas of concern including Argentina (which has a 92.4% inflation rate), Turkey (84.4%), Poland (17.5%), Bosnia and Herzegovina (17.5%) and Ghana (50.3%), according to research group Trading Economics.
Among industrialized and larger economies, the latest inflation rates stand at 10% in Germany, 5.9% in Brazil, 6.2% in France, 9.9% in the Netherlands, 5.9% in India, and 10.7% in Britain, according to Trading Economics.
Mohammad Ali, a business and accounting professor at the University of Maryland Eastern Shore, expects inflation to ease more in the second half of 2023 with interest rate hikes from the U.S. Federal Reserve Bank.
"We will continue to experience the heat of inflation, though moderate, until the first half of [2023] with the remedial steps taken by the Fed," Ali said. "The supply chain is recovering and expected to keep on improving as the Ukraine war situation seems to be dying out to some extent. Overall, the year 2023 is expected to be a better one."
However, Snipes said there is no guarantee grocery chains, retailers, and other businesses will lower prices back to pre-inflationary levels.
"Consumers only have so much say in prices. It's companies that set the price, and consumers decide if they are going to pay for it," said Snipes.