LANSING, Ill. (August 22, 2017) – "We have not had this many people in the library since the planes were here!" said Library Director Debbie Albrecht, referring to the 2006 Tri Motors "In Plane View" project. Albrecht and other Lansing Public Library staff had set up chairs and tables to accommodate the approximately 150 people they anticipated would attend the Thornton Township Property Tax Appeal Workshop. As 200, then 300, then more arrived, they found themselves scrambling to set up additional chairs and make additional photocopies of the handouts.
Thornton Township Assessor Cassandra Holbert had predicted the crowd would be larger than usual. She has spent the summer doing presentations throughout Thornton Township, and they have been well attended. But the Lansing workshop was the first since the triennial reassessment notices were mailed to all of Thornton Township on August 15. Holbert spent 30 years as an Assessor in Cook County, and she knows that these notices can cause alarm and confusion. She encouraged residents to bring their notices to the Lansing workshop and get their questions answered.
Holbert and her staff explained what reassessment is, how to file an appeal, and which tax-saving exemptions are available. Copies of the required forms were on hand for workshop participants, and staff gave step-by-step instructions for completing the forms right there.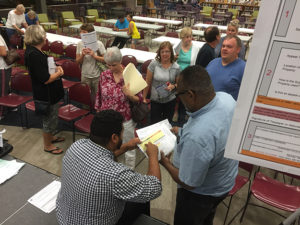 Following the large-group presentations, Thornton Township staff made themselves available to answer one-on-one questions from participants. Though the event was scheduled to end at 8:00pm, they stayed until nearly 9:00pm to ensure that all residents received the help they needed.
The next Thornton Township Property Tax Workshop is scheduled for Thursday, August 24, at the Riverdale Senior Center. Contact Thornton Township for more information.
---
Events like these are important for Lansing residents. The Lansing Journal was there, covering the story. To make sure you receive daily notifications about stories like this, subscribe to the online version of The Lansing Journal: